About Us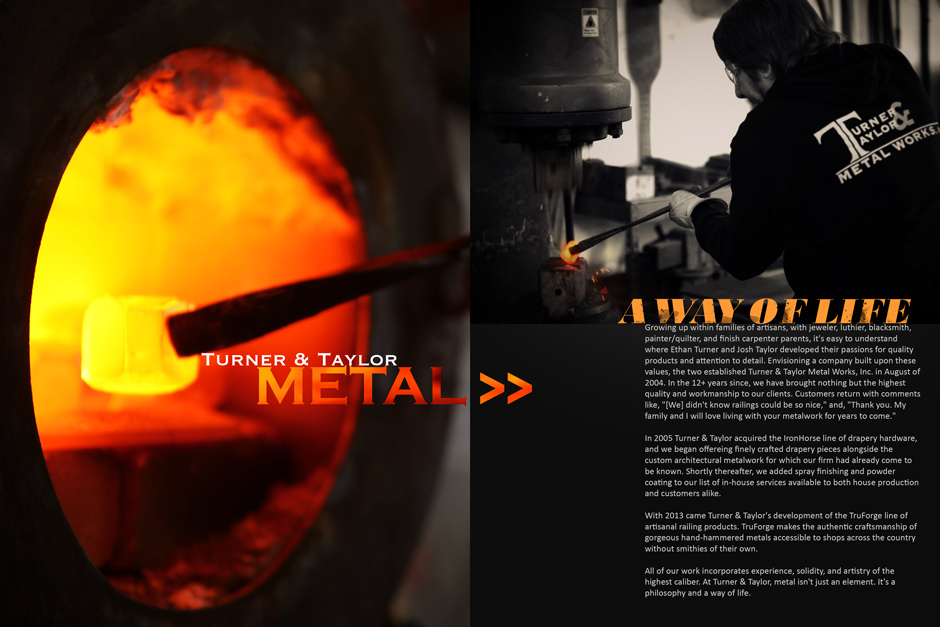 Growing up within families of artisans, with jeweler, luthier, blacksmith, painter/quilter, and finish carpenter parents, it's easy to understand where Ethan Turner and Josh Taylor developed their passions for quality products and attention to detail. Envisioning a company built upon these values, the two established Turner & Taylor Metal Works, Inc. in August of 2004. In the 12+ years since, we have brought nothing but the highest quality and workmanship to our clients. Customers return with comments like, "[We] didn't know railings could be so nice," and, "Thank you. My family and I will love living with your metalwork for years to come."
In 2005 Turner & Taylor acquired the IronHorse line of drapery hardware, and we began offereing finely crafted drapery pieces alongside the custom architectural metalwork for which our firm had already come to be known. Shortly thereafter, we added spray finishing and powder coating to our list of in-house services available to both house production and customers alike.
With 2013 came Turner & Taylor's development of the TruForge line of artisanal railing products. TruForge makes the authentic craftsmanship of gorgeous hand-hammered metals accessible to shops across the country without smithies of their own.
All of our work incorporates experience, solidity, and artistry of the highest caliber. At Turner & Taylor, metal isn't just an element. It's a philosophy and a way of life.